---
| | | |
| --- | --- | --- |
| | This Just In: I Have a Sunbeam has a great new story from an as-yet unnamed writer ... The Registration Form is now available! ... The Ken Miles prototype Tiger will be attending. ... A description of the Autocross is available. | |
---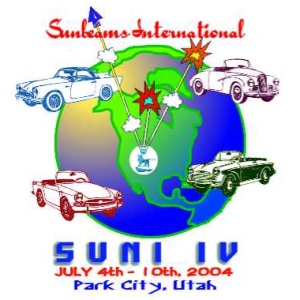 The biggest and best Sunbeam owners event is just around the corner.
This year Park City, Utah will be the host site for all the activities. The Canyons Resort offers unequalled facilities for our event. The Canyons offers an exceptional autocross course, concours location along with banquet facilities rooms and of course a swimming pool for young and old alike.
Join together with Sunbeam owners from all over the world for five days of touring, racing, showing, swapping, meeting old friends and making new ones, meeting our special guests. There will also be lots of activities in Park City for the whole family.
Among the featured guests will be Carroll Shelby, Rosemary Smith, George Boskoff, and we expect that others that have been invited will want to attend.
And the Special Historic Cars that have committed to date?
The Lemans Tiger #9, one of the two prototype coupes entered by Rootes in the 1964 Lemans Race and restored by Darrell Mountjoy. Raced in 2002 in Goodwood and Lemans and in 2003 at the Monterey Historics.
The Targa Florio Tiger #192, one of the first group of works rally cars which was modified and ran in the 1965 Targa Florio and restored by Dave McDermott. Raced in 2003 in the Monterey Historics.
The Sports Car Forum #74 BP Tiger, driven in numerous events in 1965 by Don Sessler and restored by Buck and Claudia Trippel. Raced in 2003 at the Monterey pre Historics and Coronado.
The Ken Miles Prototype Tiger, first of two prototype Tigers commissioned by Ian Garrard and Rootes to test the feasibility of the Tiger concept and constructed by Ken Miles.
And many more Alpines, Tigers, Rapiers, Hillmans and Humbers. So get the cars ready and join us in Park City, Utah for another once-in-a-lifetime experience with the Rootes Clan.

It's been fifteen years since we first had an opportunity to enjoy Sunbeams United National International! Our first event took place in July, 1989 at Snowmass, Colorado. The second SUNI took place in May, 1994 at Lake Geneva, Wisconsin. The third SUNI happened in July 1999 at Big Sky, Montana. And now, it's time to continue the celebrations with SUNI IV at Park City, Utah.
This site is built like a big reference manual with links between a lot of pieces: read it like a book (page by page) and/or surf through what interests you (link by link). Here are the main sections of the site, for the moment arranged around the basic 5 Ws and an H. You will notice most pages have icons like those at the top of this page for navigation, and those below for quick access to the main sections.

---
| | | |
| --- | --- | --- |
| Document JOY/DLN/CMNY | Redaction 1.5: April 13, 2004 | Built by BRIDGE. Powered by Apalon. |