SUNI IV - Sunbeams International








4.2.6. Tech Tour
---
Dr Gas and Pro-Motorsports are owned and operated by Boyd Butler. His businesses design and fabricate performance exhaust systems and suspension components for race and street cars. His primary race customers are Winston (Nextel) Cup cars for Nascar, Busch, IROC, ARCA, Craftsman Truck series and IROC. Cars equipped with his systems have won the Daytona 500 and his system is the Official Exhaust System of IROC. He recently moved into a larger 20,000+ ft. facility to meet the growing demand for his products. Boyd has agreed to provide a tech session on exhaust systems in general for the layman as well as the enthusiast and a tour of his facility. Boyd is a degreed physicist by training and worked at Hercules Engineering for a number of years before branching out into automotive performance components. He has owned a Sunbeam Tiger, a Pantera and numerous Mustangs, Boss 302s and Shelbys. I believe he still races a Shelby Mustang and a Camaro in SCCA and has been regional champion.
The web sites for Dr. Gas and ProMotorsports are
http://www.drgas.com and http://www.pro-motorsports.com
Kirkham Motorsport is a manufacturer of A.C. Cobras and components. They are the supplier of aluminum bodies, chassis and components for the Carroll Shelby continuation Cobras. Their bodies and components are an exact match to the originals, so well, in fact, that they are completely interchangeable. Their Poland facility forms the aluminum bodies over bucks fabricated from computer generated databases digitized directly from an original A.C. Cobra. Their Provo factory is more compact than Pro-Motorsport, but they will provide a tour of their CNC machining operations. With this much advanced notice, they believe they can have several completed cars available for inspection. They may also have other Cobras in various stages of completion. Their website is
http://www.kirkhammotorsports.com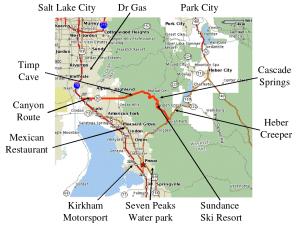 The I-15 freeway is a direct route from Dr. Gas to Kirkham about 1/2 hour. However, I am proposing a scenic detour of some gorgeous canyons with excellent roads, instead of the freeway. This alternate canyon route will take us past Timpanogoos Cave, Sundance ski resort, some natural springs (Cascade Springs) and the backside of Mount Timpanogos, 11,750 ft altitude. (I've slept on the trailhead, hiked to the top and slid down the glacier - spectacular!) This detour will take probably 2 hours. After Kirkham we may attend a buffet lunch at a friend's Mexican restaurant (tentative) Then back up Provo Canyon, through Heber to Park City. You can also ride the Heber Creeper, the local steam engine, up the canyon if it's running.
- Gary Crandall, Tech Sessions Coordinator

---
---