SUNI III Home Pages








5.4.1. The First Sunbeam
---
| | | |
| --- | --- | --- |
| | SUNI III will coincide with another important anniversary! | |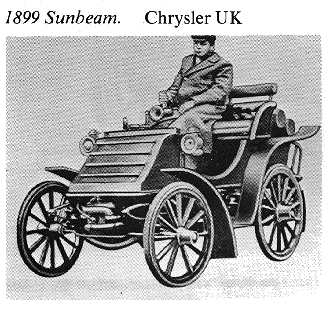 It was in 1899 that Sunbeam built its first prototype car under the guidance of Thomas Cureton and Sunbeam boss John Marston. That first car used a single cylinder 5hp engine with belt drive and a two speed gearbox in a wooden chassis.
It was hand built in Wolverhampton from parts made in-house in the Sunbeam works. Assembly took place in a disused coach-house which later grew into the Sunbeam car factory.
Although this design never went on sale, it laid the foundations for a car manufacturer which was to shower itself in glory in motorsport and to produce some very fine cars indeed, before disappearing with much of the British motor industry during the seventies and eighties.
What better way to keep the marque alive than to support this important event. Miss this one and you'll have a long wait for the bicentenary!
Text by Russell Maddock of The Supreme Sunbeam. Picture from Culshaw, D & Horrobin, P., Catalogue of British Cars 1895-1975, Veloce Publishing PLC, Dorchester England 1997, ISBN 1 874105 93 6, contributed by Robert (Bob) Hamilton, "The Man of Many Sunbeams".
---
---