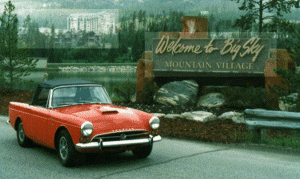 Max Pahmeier's 1966 Tiger just after the 1998 Tigers United in California
Pick the image to see a larger version.
Who better to tell you about the place than the people who run it? Big Sky Ski & Summer Resort

We can tell you this much:


Big Sky Rooms and Rates
Other Amenities Offered by Big Sky
RoomShare Registry

Volunteers? Perhaps someone in the neighbourhood would like to give their impressions.